Print
The Dr. Martin Luther King Jr. Initiative, Featuring Prof. Timuel D. Black
If you are interested in volunteering or interning with the Dr. Martin Luther King Jr. Initiative, please contact Bart Schultz, the Executive Director of the Civic Knowledge Project, at rschultz@uchicago.edu. And please consider making a gift to the Timuel D. Black Legacy Endowment Community Solidarity Scholar Fund to support a UChicago student carrying on the legacy of our South Side legend, the great historian, civil rights activist, and educator Timuel D. Black. You can read about Prof. Black's work with Dr. King in his award-winning memoir Sacred Ground!

[Video] Timuel D. Black: A Life of Jazz and Justice

[PDF] Timuel D. Black: A Life of Jazz and Justice

[PDF] Timuel D. Black Centenary Weekend, celebrating Prof. Black's 100th Birthday

[Article] 100 Years of Hope: University Alum Timuel Black Awarded for Life of Civic Engagement

[Video] Timuel D. Black Jr.: 2020 Legendary Landmark. Landmarks Illinois honored Mr. Black at its 2020 Legendary Landmarks Celebration held March 5, 2020, in Chicago.

[Video] The University of Chicago's 2018 Dr. Martin Luther King Jr. Celebration, featuring keynote speaker Dorothy Butler Gilliam

[Video] "The Day Dr. King Died," a conversation between CKP Director Bart Schultz and civil rights legend Prof. Timuel D. Black to commemorate the 50th anniversary of Dr. King's tragic assassination.

[Video] The Life and Times of Timuel D. Black: A Centenary Symposium

[Video] Professor Timuel D. Black on TikTok
The MLK Initiative, Featuring Prof. Timuel D. Black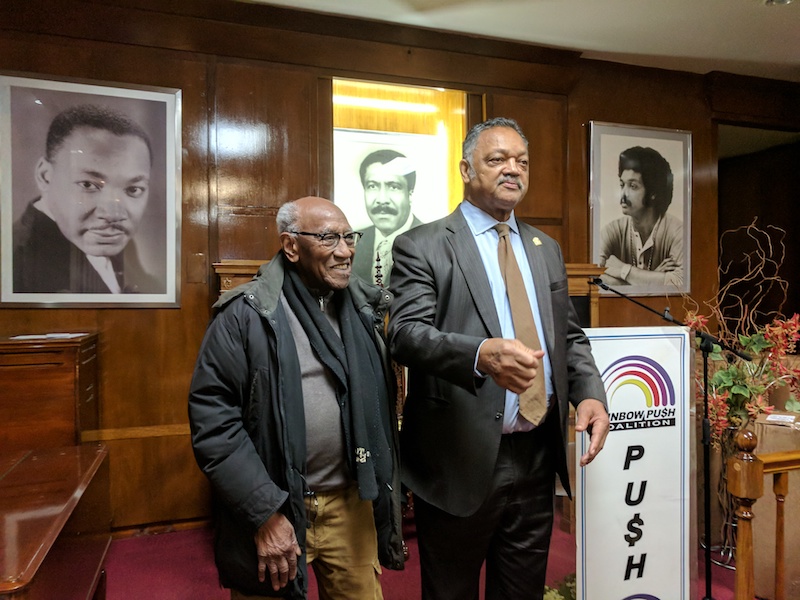 The Civic Knowledge Project has for many years been deeply devoted to studying and celebrating the legacy of Dr. Martin Luther King Jr. Working closely with Chicago's South Side legend, the great civil rights activist and oral historian Timuel D. Black, who worked directly with Dr. King and helped organize the March on Washington, the CKP has initiated and supported a wide range of projects designed to research the roots of Dr. King's philosophy of nonviolence and his role in the civil rights movement, and to call attention to the ongoing relevance of his life and work, with a special emphasis on his connections to the City of Chicago. "Civic Knowledge," in Chicago, ought to accord a special and prominent place to the legacy of Dr. Martin Luther King Jr., who brought his movement here in 1966.
The MLK Initiative, Featuring Prof. Timuel D. Black, worked with a wide range of community partners--including the RainbowPUSH Coalition and Liberty Baptist Church--as well as various UChicago partners--including the Center for the Study of Race, Politics, and Culture, the Office of Civic Engagement, the Alumni Association and Rockefeller Chapel--to commemorate the work of Dr. King on the occasion of the 50th Anniversary of his tragic assassination. This Initiative will continue with a wide range of educational programs and activist opportunities designed to showcase and critically assess the ongoing importance of King's philosophy of nonviolence and the life and work of Prof. Black. For more information, please check out some of the other pages on this website, such as the Timuel D. Black Edible Arts Garden page and our Media Page.
Please do get involved with our efforts! Contact CKP Director Bart Schultz, at rschultz@uchicago.edu or 773-834-3929, if you would like to participate in any or all of the following activities:
Watch our Saturdays at RainbowPUSH Workshops Here:
Also, please do check out this wonderful story about our great CKP friend and supporter, Timuel D. Black, who was featured on the UChicago homepage: A Lifetime Championing Civil Rights. All of us at the CKP take great pride in having helped build this relationship between UChicago and Prof. Black, with whom we have been working over two decades. He is the living memory of the South Side of Chicago.
The Prof. Timuel D. Black Bridges of Memory Distinguished Guest Lecture and Jazz Concert
And for Videos of Previous Events, Please Visit Our Media Page: https://civicknowledge.uchicago.edu/media.shtml