Print
Get Involved
Contact Bart Schultz at 773-834-3929 or rschultz@uchicago.edu
Volunteer Opportunities: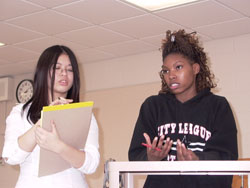 Winning Words: Verbal Arts for Democratic Practice:
Help local middle school students by volunteering to work in our afterschool program, "Winning Words: Verbal Arts for Democratic Practice." You can learn how to coach younger students in such humanities related rhetorical arts as debate, public speaking, and acting, working with such groups as the Office of Special Programs-College Prep, the South Shore Urban Debate Project, and the professional theater group, The Silk Road Theatre Project. We also need advanced UChicago students to work with the College Prep Space Explorers in developing a humanities/writing component for their science program.
Odyssey Project:
Opportunities are available to be a one-time, semester or yearlong writing tutor. Tutors can work with students during their evening classes at the Donoghue Charter School, or arrangements can be made to meet at a mutually convenient location during early evening hours. You will help students hone their writing and analytical skills for class assignments.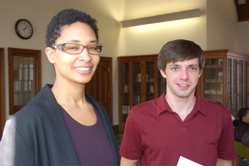 Know Your Neighborhoods/Washington Park/Sustainability and Local Infrastructures:
Attend a Washington Park Advisory Council meeting to give the community a brief presentation in your field of expertise. Potential topics are wildlife and ecology of the park and region, taxation and revenue distribution, grant writing, public health and nutrition, and many others. Or help prepare for our efforts to BioBlitz Washington and Jackson Park. We also welcome help with our
http://southside.uchicago.edu
website. Meetings are the 3rd Wednesday of each month at 7:00pm in the Washington Park Field house.
Southside Arts and Humanities Network (formerly Enhancing Assets):
Small Scale Arts and Humanities Organizations Resource Network- This program hosts annual networking meetings and workshops to enhance the relationships among community arts and humanities organizations and to promote professional development. University faculty and staff are invited to lead workshops on such topics as business, technology, law, publicity and advertising, grants, constructing humanities courses and programs, or other topics relevant to successfully running small community organizations and businesses in the arts and humanities.
Paid Opportunities:
Odyssey Project:
CKP is always looking for new faculty interested in teaching literature, philosophy, art history, or American history in English or in Spanish. This commitment is paid at the same rate as a Graham School course and runs for ten weeks, once a week for two hours. Classes are held either in Pilsen or North Kenwood.
Coordinatorships and Internships:
CKP has a limited number of student coordinatorships and internships available each year to college and graduate students in all schools and divisions. However, preference is given to students in the Division of the Humanities.